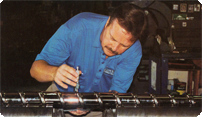 Feed Screws and Barrels New, Rebuilt and Used
Flite Technology is a world class manufacturer of precision single and twin feed screws and barrels. In addition to producing new screws and barrels, Flite Technology rebuilds, repairs and does conversions on barrels and feed screws.

Fast Turnaround
Modern equipment and streamlined manufacturing methods give Flite Technology the ability to turn orders around quickly and economically. Whether your firm is large or small, you can count on Flite Technology to deliver high quality products, on time.

Largest Inventory
Flite Technology has the largest inventory of available new, rebuilt and used replacement screws and barrels in the industry. Whatever screws or barrels you need, chances are Flite Technology has them in stock or can locate them for you on their nationwide computer data bank.

Cost Effective Pricing
Flite Technology believes you deserve the performance of the product or service you pay for. That's why they straighten screws with pneumatic presses, not hammers; use sophisticated plasma transfer arc welding machinery instead of hand welding and do extremely detailed pre-work and post-work inspection reports.

Extra Savings Available to Importers, Exporters
Extra Savings Available to Importers, Exporters If you import, export or trade on the international market, you could save on customs duties, taxes and shipping using our in house custom house brokers and freight forwarders.

Full Year Warranty
Flite technology is so confident of their ability to provide you with outstanding products and services, they include a full one year warranty on all materials and workmanship.

Scientific Analysis Services
At Flite Technology there is no guess work. Testing is scientific, using microphotography, ultrasonic, x-ray and other sophisticated testing methods. You can be confident of precise analysis and evaluation services when needed.

Measurement Instruments
A complete line of dial and electronic barrel bore gauges and wear measurement devices are available. Including digital plastic extruder and injection screw wear measuring instruments that permit unskilled labor to measure screws precisely.
---
Flite Technology, Inc. | phone: 800-327-9310 | 407-631-2050 | Fax: 321-636-3508

---