Quality Feed Screws, Barrels
and Wear Inspection Equipment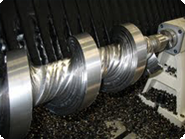 For over three decades Flite Technology has been a leading supplier in machine components for the Plastic, Food and Rubber industry. Flite Technology has earned the reputation as an innovator and industry leader in the manufacturing of precision single and twin feed screws and barrels. Whether it's new, rebuilding, designing or repair, you can be confident our service, quality and performance will be unsurpassed.
We also offer very aggressive competitive pricing. Pick up and delivery service is available as well as reverse engineering for existing worn out parts.